Fantasy Football Tips DGW36
Welcome to Fantasy Football Tips DGW36
We, ladies and gentlemen, are at the business end of the season!
We head into the next gameweek and it's a big 'un. A double gameweek for nearly everyone and we only have three to go including this one so as I introduce to you a run down of the fancied players per position from our brilliant band of writers, I forewarn you to ensure you have a plan in place for your remaining chips. Remember, you can use only one a week and time is running out.
Let's go find out who are the sure-fire point winners, the differentials and the best bets amongst the dark horses.
Goalkeepers – by Smash
Kasper Schmeichel (4.9)
Leicester City 'keeper Kasper Schmeichel (4.9m) is the only safe route into Brendan Rodgers' backline, with mass rotation happening amongst defenders due to their Europa Conference League involvement. Leicester have a very nice run to end the season. They play Norwich and Everton at home in GW36, have another double GW with Watford (A) and Chelsea (A) in GW37 and finish the season with another home game v Southampton. The Leicester defence has been pretty disappointing this season but have at least kept two clean sheets against Aston Villa and Leeds United in their last four King Power outings. Schmeichel is always good for bonus and is a cheap enough option for a bench boost.
Ederson (6.1)
If you want a keeper and you have cash to spare I am not sure there is a safer bet than Ederson to see out the season. They have only conceded 34 big chances this season (1st), 20 clean sheets (2nd) and the best xGC rating in the league this season. Manchester City play Newcastle (H), Wolves (A) in GW36. In GW37 they play West Ham (A) and finish the season with Aston Villa (H). These matches don't scream lots of goals to me and with them being potentially nervous seeing out the title why not back their defence over their attack. I see City seeing games out more than going for goals with their remaining fixtures.
Jordan Pickford (4.9)
Yeah I know it's strange to be backing an Everton goalkeeper here but hear me out. Everton have back to back double game weeks coming up. They play Leicester (A) who are distracted by the Europa and already relegated Watford (A) in GW36. In GW37 they face two mid table teams who are not playing for anything Brentford and Palace (both H) and then have a difficult fixture in Arsenal (A) in GW38. Everton are fighting for survival and will be high in confidence after their big win over Chelsea at the weekend. Pickford does look better for GW37 because of the two home matches, Everton have only conceded one goal in their last four home matches.
Ben Foster (4.1)
If you just need a keeper to BB or just need cash Ben Foster has a double GW in GW36 as he plays Palace (A) and Everton (H). Foster does not keep many clean sheets but he should at least pick up some save points. He does not have much else to go on so I'll finish with that.
Defenders – by Loud Atlas
There are plenty of defenders to go for this week, but will they play both games in the double gameweek? Or just one (gulp)? And can anyone unpick Rodg-roulette to fathom who will start in the Leicester defence? (Take Smash's advice and just go for Kasper to save the headache!)
Unpredictable Chelsea are looking to get some sort of stability (on and off the field!). Marcos Alonso (5.7m) and Reece James (6.4m) are probably your safest bets for attacking returns. Although James sometimes switches from RWB to RCB he still manages to find space to roam forward and shoot. Historically (this season) he's done well against lower teams (hello, Leeds!). In Chilwell's absence, Alonso is likely to play LWB for the remaining games and has amassed a whopping 34 points in the last five gameweeks. He's the in-form defender of the game.
Playing a full 90 mins in all but three PL games this season, Joao Cancelo (7.2m) is probably your safest bet to beat Pep-tation. His nine assists place him head-and-shoulders above his comrades. To double up this week shouldn't do any harm either. Aymeric Laporte (6m) leads the way for goals scored (three) among the City defenders. He's also only owned by 12% of managers. City need to keep leading the title race, so expect clean sheets and goals!
If he recovers from his hamstring issue, Ben White (4.6m) offers a cheap way into Arsenal's defence for their double gameweek. If Ben's not recovered, Takehiro Tomiyasu (4.5m) or Nuno Tavares (4.3m) could be effective differential replacements (and they're even cheaper!). Or, if you've got the cash, try Gabriel (5.4m) – his goal last gameweek has attracted a lot of attention (he's the fifth most transferred-in defender this week).
If you fancy a cheap differential for Liverpool's double, Joel Matip (5.2m) (7.6% owned) offers another route into an impressive defence fighting for the title (six clean sheets in his last seven games). Trent Alexander-Arnold (8.4m) and Andy Robertson (7.3m) should also be mentioned for their attacking returns, but you've probably had at least one of them since the start of the season!
Who's playing Burnley twice in 12 days, but has Liverpool and Palace sandwiched in-between? Aston Villa, of course! Three of their four games have 'probable clean sheet' written all over them and they have defenders worth your attention: Tyrone Mings (5m) and Matty Cash (5.3m). They both score, assist and start matches.
If you want to spice up your life and throw caution to the wind, there's one single game defender to consider this week: Alex Telles (5.1m). He bagged an assist and a clean sheet last time out. This week he faces Brighton away.
Midfielders – by Init
I think I drew the short straw here in terms of pure volume of available options and the subsequent amount of writing that that may involve. Fortunately though, for both you the reader and me the writer, I'm a fairly resourceful chap, and also very good at simply cutting to the chase. So rather than bore you to death with 20 different picks here is how we are going to break this conundrum down… My initial thought when seeing so many was to simply list them out, with a brief outline / take-away for each, rather than war & peace and stats galore:
Arsenal – Bukayo Saka (6.7), Gabriel Martinelli (5.3), Martin Odegaard (5.6)
Saka is the obvious pick here, for obvious reasons, being consistency of returns (11 goals, 8 assists, pen duties, corner duties, 168 points, etc, etc). But you probably already own him.
To double up would be a leap of faith with Spurs being one of these games but if you needed a budget option then either of Martinelli or indeed Odegaard would fit the bill at sub 6m. The former is probably more sensible but I can't help like the latter more, if for no better reason than he has spurned possibly the best fan chant of the season, if not the decade, coutersy of Alan Davies' The Tuesday Club, to the tune of the Worzels' Combine Harvester… 'I've got a brand new Martin Odegaard, Arsenal's number 8'. It's not a particularly good 'fantasy' reason for selecting him but trust me you won't be able to get it out of your head if you seek it out, especially not if you pick him and he returns.
Aston Villa – Philippe Coutinho (7.1), Jacob Ramsey (4.7)
Since Coutinho kicked off his Villa career in GW22 he has amassed 69 points with 4 goals and 3 assists. Ramsey by contrast has 61 points, 2 goals and 1 assist in the same period. Not a great deal of difference but quite a hike in price to go from one to the other for the meagre 8 points. It could be that one is actually hindering the other but given their styles of play it really should be that they compliment each other.
Either way they double/double here in 36 & 37, the only isssue being that 2 of their remaining 5 games are against Liverpool and Man City…
Chelsea – Mason Mount (7.7), Kai Havertz (7.9)
The problem here may be recent disappointments as between them they got 1 assist in DGW34, for 5 and 8 points respectively, in both games combined. And then both blanked in GW35 vs Pickford Everton.
Wolves and Leeds should in theory offer up more but the former will be after a reaction and the latter are suddenly in the doo-doo and desperately need a result.
Everton – Anthony Gordon (4.6), Demarai Gray (5.4)
Gordon is on one, any recent 'eye-test' tells you that he is the one to own, if any. The stats actually marginally point to Gray though as he edges him out with slightly more overall points (94 to 90) and a goal and an assist more with 5 and 4 vs 4 and 3. Neither make great reading but at their price (particularly Gordon) and at their desperation (both) then either could be a handy enabler / differential.
Leeds – Raphinha (6.4), Jack Harrison (5.5)
As desperate as Leeds are / or at least are about to become, the problem here is their DGW opposition, in the shape of Arsenal and Chelsea. Both are proving to be perfectly fallible but likewise both are also capable of providing stern and capable opposition on their day and both still have a lot at stake, namely CL qualification.
For balance, Leeds' remaining fixtures after these are Brighton and Brentford, both of whom may be beach bound fodder.
Leicester – James Maddison (6.9), Harvey Barnes (6.5)
Leicester have 5 league games left and that would usually be fantastic news… if only they cared a jot about the league any more! They don't. Their priority is this Thursday vs Roma and they will be throwing the kitchen sink at that. If they manage to get through that then you'll be lucky to see Maddison or Barnes in public before the final never mind in a meaningful game. If they don't then you may do, but who knows, as they aren't going anywhere in the league table regardless.
Liverpool – Mohamed Salah (13.3), Sadio Mane (11.7), Diogo Jota (8.3), Luis Diaz (8.0)
With them fighting on so many fronts, and Klopp already providing evidence in the Newcastle game of a willingness to rotate even their best assets, then it really is anybody's guess as to how they will approach this DGW. Pick your poison and hope it plays.
Man City – Kevin De Bruyne (11.9), Bernardo Silva (7.0)
I've picked out those 2 as they are their top points scorers with 158 & 146 and 11 goals, 6 assists & 8 goals, 7 assists respectively. But I could equally have pointed to Sterling (131, 10, 5), Mahrez (130, 11, 6), Foden (127, 8, 6) or even Gundogan (105, 6, 5). When you put it like that it looks ridiculous compared to some of the other mids in this list. Equally though you don't need me to point out the downside to picking any of Pep's players. Even KdB has had a total of 56 minutes in the last two league outings. Proceed with caution etc.
Norwich – erm… awkward
Often (sometimes), when a team is relegated and the pressure is finally off we see an unexpected flourish but in all honesty it would take quite a leap of imagination with this Norwich lot. For the record Kenny McLean (4.9) is their top points scoring mid with 69 which includes 1 goal and 0 assists. Say no more.
Spurs – Heung-min Son (11), Dejan Kulusevski (6.3)
Two fairly obvious picks but both come with a caveat. In Son's case it is more his price and your ability to somehow squeeze him in. With both it is that their games are not the easiest, being Liverpool away and then that CL shoot out with Arsenal.
Watford – Ismaila Sarr (5.7)
Remember back when Sarr was a thing? It was quite a while ago! He has 5 goals but hasn't got 1 of those since GW12.
Wolves – Joao Moutinho (4.9), Ruben Neves (5.2)
We really are going out with a whimper here as these 2 have 2 goals and 1 assist and 4 & 2 respectively. You'd probably have to be at the end of your budget and really clutching at straws.
Ok, so it ended up with 24 picks but I did try!
Forwards – by Rosco
Top of the form table is Gabriel Jesus (£8.6m) with 6 goals and 1 assist in his last 4, but before that the Brazilian only started 3 of City's last 10. There is no doubt that if Jesus was a regular for Pep, he'd be a regular in most of our FPL sides. In GW34 he grabbed 24 points thanks to 4 goals and an assist, he followed that with a goal at the weekend away to Leeds and with a favourable double – Newcastle (H), Wolves away and just 8.7% ownership he would probably be a shoo-in. The problem is, will he play?
Next up on the form table is another Brazilian. Richarlison (£7.5m) may spend 90% of the time complaining on his backside but he has 4 goals in his last 5 and seems to be single-handedly trying to drag the toffees out of the relegation zone. One of a selection of forwards to have the 'double-double', with away fixtures to Leicester and Watford in DGW36 followed by two home fixtures against Brentford and Palace in DGW37. 8 goals and 4 assists for the season and the underlying data backs his recent upturn in form, no other forward can match Richarlions' 23 goal attempts (in the last 6), he's also first for penalty area touches (42), shots on target (10)
Ollie Watkins (£7.5m) grabbed a timely goal at the weekend (home to Norwich) and whilst it's only his third in the last 10, he's another forward with a double-double that sees the Villains square off against Burnley (A) and Liverpool (H) in DGW36 followed by an enticing home pairing of Palace and Burnley in DGW37.
It's now 8 starts on the bounce for Chelsea's German forward Timo Werner (£8.7m) and whilst he sits fourth in the forward's form table, he's only managed 3 goals and 1 assist in those 8 fixtures. The Blues have a fantastic DGW36 with Wolves (H) and Leeds (A) but with the small matter of an FA Cup final against Liverpool just 3 days after the Leeds fixture, you can see a whole lot of rotation. Werner's underlying data over the last 6 supports his recent form and if anything he's been a tad unlucky not to return more points, in his last 6, he's joint top (with Richarlison) for penalty area touches (42) and only the Brazilian has registered more than the German's 19 goal attempts over the same period.
Teemu Pukki (£6.1m) is having a decent season despite Norwich spending most of the season propping up the league table and now heading straight back down to the Championship. Norwich face West Ham (H) and Leicester (A) in DGW36. With both opposition sides seemingly focusing their attention on European success, it's a good opportunity for Norwich to at least bow out in style. Pukki has 10 goals and 3 assists on the season, 4 of those goals and 2 assists came in the last 8, too little too late sadly.
Harry Kane (£12.4m) is the highest-scoring forward in the game (160pts), but you will be significantly worse off for points if like yours truly, you've owned Kane over team-mate Son in recent weeks. There will be a temptation for those with Kane to switch to Son, and for those without to simply ignore him, with a less than favourable DGW36 (Liverpool (A) and Arsenal (H) who can blame them, however, Kane scored when the clubs met back in December, and we all know he loves playing the Gunners. Indeed, in the 16 North London Derbies that Kane has played, he has 14 attacking returns (11 goals and 3 assists). Following DGW36 Kane then has Burnley (H) in 37 and a trip to Norwich in the season's final game.
The fact that Watford's Emmanuel Dennis (£5.9m) is still the third-highest scoring forward (132pts) this season despite just one goal in his last 10 games, tells you just how poor the forwards have been this season. The Hornets are clinging onto their place in the Premier League by a thread, just a single point for either Leeds or Burnley in their remaining 4 games and they'll be down. Palace (A) and Everton (H) in DGW36 don't look bad on paper, I'll not be going back there, but if I was on a Free Hit, I'd probably stick him on my bench.
Thanks for reading Fantasy Football Tips DGW36. This article was written by Smash, Loud Atlas, Init and Rosco.
VOTE ON THIS WEEK'S CAPTAIN POLL
FPL FIXTURE TRACKER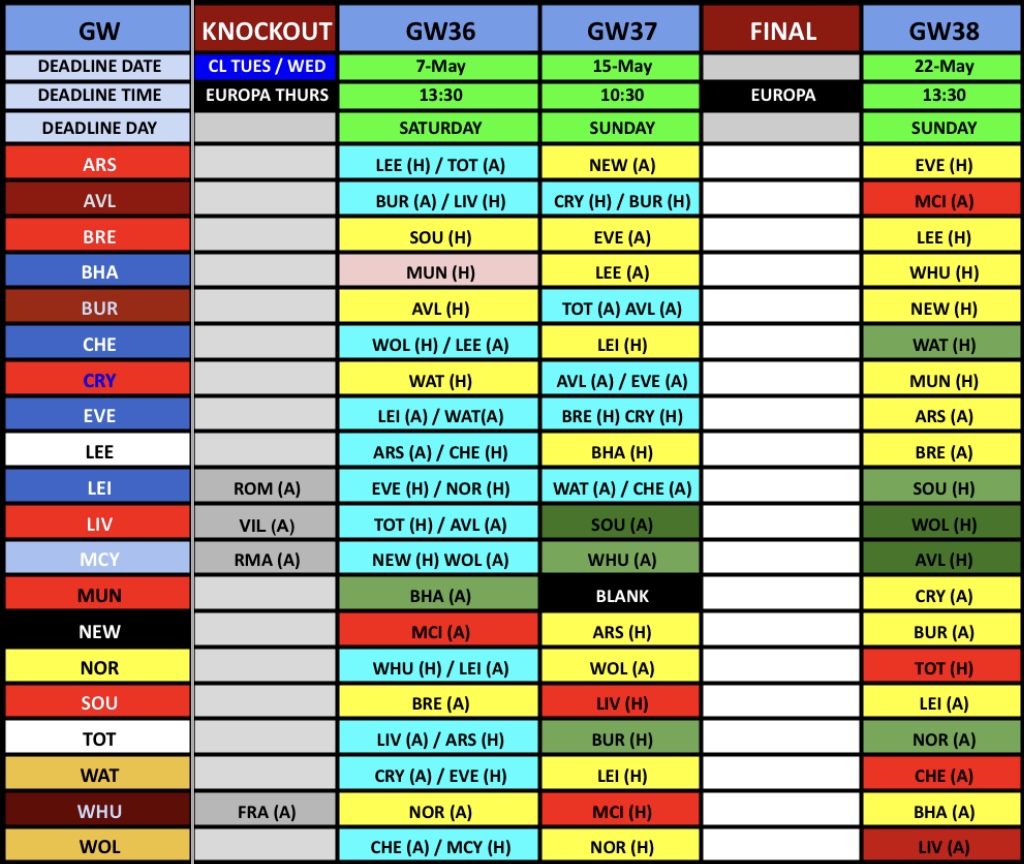 FIXTURE TRACKER LINK
SET-PIECE TAKERS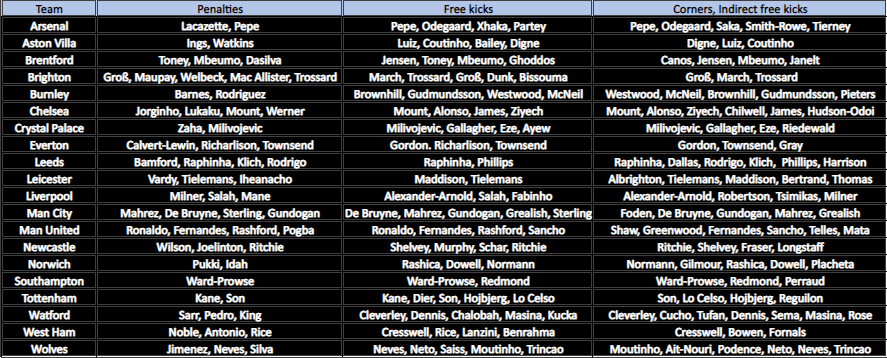 Predicted Line-Ups FPL 2021/22
You can access our Live feed to these here.
FF247 LEAGUES FOR 2021/22
Fantasy Football 247 League Codes:
Both leagues will be shut to new entrants as of 01/01/22.
The post Fantasy Football Tips DGW36 appeared first on Fantasy Football 247 – Premier League Tips.